Hay Fire in Cornish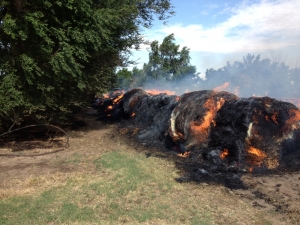 A little more than a week ago, there was a hay fire in Cornish, Utah.  Although there were no injuries and the cows nearby were saved from danger, 350 tons of hay were destroyed.  How could this happen?  The answer is spontaneous combustion.
Spontaneous Combustion?
Yup.  It just goes up in a blaze of its own accord.  Well, okay, the process is a little more complicated than that.  The problem arises when the hay bale gets wet.  If the load is above 20%-25% moisture levels, and the load is large enough, heat can get trapped inside the bale.  Certain bacteria found in hay really love high temperatures, and if you create a heat trap, they start to multiply.  This causes a chemical reaction inside that can become self-sustaining.  It builds up heat until it gets too hot and bursts into flame.  Once it goes up, there's little you can do but try to protect the surroundings, because the fire is nearly impossible to put out.
So what can you do?  Well, there are a few things.
Minimize Moisture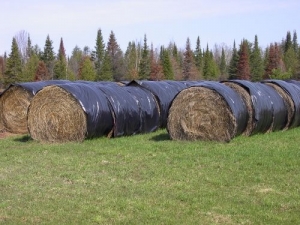 The key to preventing hay fires is to minimize the amount of moisture in the hay.  First, before you cut your hay, you should check the weather conditions.  Generally speaking, you want to have less than 50% humidity levels in the air when you cut and bale your hay.  Keep in mind that moisture levels go up over night, so if there's any question, it might be worth it to delay a day or two.  Check the weather reports and schedule your work appropriately.
The way you bale the hay also matters.  When baling your hay in round shapes and stacks, you should go for the tightest possible packages.  This will help prevent rain and morning dew from penetrating the inside of the bale and creating hot pockets.  Specialized equipment can crimp or abrade the hay, which speeds up the drying process.
If possible, store your hay inside.  When storing inside, make sure you don't have any leaking pipes nearby.  If you can't store it inside, try to keep your bales covered with waterproof tarps.
Check the Temperature Regularly
Once you have your hay baled, be sure to check on it regularly to make sure the temperature is staying in the safe zone.  The danger begins if the inside of the hay bale reaches 150 ° Fahrenheit (65 ° Celsius).  Combustion isn't for certain at this point, but be sure to keep checking on it to be sure.  If it hits 160° F (70° C), then you're definitely in the danger zone and should start checking it every few hours.  If the temperature reaches 175° F (80° C), then you need to call the fire department for assistance and immediately move it away from anything that might endanger the surrounding area.  The hay may continue to rise in temperature, up as high as 212° F (100° C).  At that point, combustion is guaranteed, if it hasn't gone up already.
Hay Fires Are Easily Preventable
By following some simple safety guidelines, it's fairly easy to prevent hay fires.  Even if pockets of bacteria and heat get trapped in a bale, the organisms don't always reach critical point.  Even if they rise to the brink of the danger zone, the amount of bacteria fluctuates, as does the temperature.  There may be several periods of warming and cooling in the hay without anything going wrong.  So, with some careful observation and safety procedures, you should have no problem keeping things under control.
Accidents Happen
Even though the risk is not very high and it can be prevented, accidents happen.  If a hay bale does combust, hopefully you've been able to move it away from other flammable materials.  Fighting a hay fire is difficult because the hot pockets inside the bale can be difficult to reach.  Call the fire department as soon as you see the problem arise.  The fire fighters will do everything they can, but you'll have to accept that at least the hay bale is lost.  You should be able to save your barn and home, though.
Smoke Damage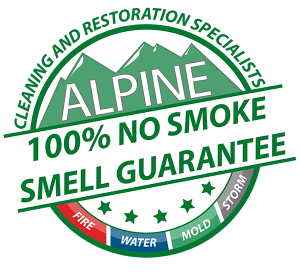 There's not much we can do to save your hay after the fire's destroyed it, but we can repair damage to your home.  Even if you save your barn and home, hay fires produce a lot of smoke and residue.  This gunk can have a real nasty smell to it.  It will coat any surface it can, leaving its lingering smell and staining the paint job.  Even if you can get the stains off, it can be hard to remove the smell.  Fortunately, if that happens, you have us to help you out.
Alpine Cleaning and Restoration is an expert on fire damage restoration, and that includes smoke damage.  We have special tools and techniques to remove the smell of smoke.  If smoke from the hay fire should damage your home – or worse, if the fire itself damages your home – get in touch with us.  Our professional restoration team will give your house a thorough cleaning.  After we're done, we guarantee you won't even have the lingering smell of smoke to remind you of the fire.  We work with your insurance company to help get you the best price on this process, letting you get back on your feet all the faster.
Don't wait.  We're always ready to help.
https://www.alpinecleaning.com/wp-content/uploads/2019/07/Hay-Fire.jpeg
960
1280
Bart Caley
https://www.alpinecleaning.com/wp-content/uploads/2022/03/Alpine-Core-300x165.png
Bart Caley
2019-07-18 09:59:50
2022-10-18 18:17:00
Hay Fire