Flood Preparation in Utah and Idaho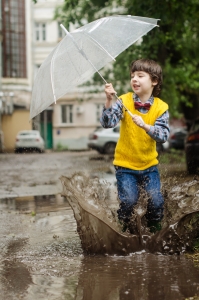 With winter past its peak and inching toward spring, we can look forward to warmer weather.  While we're all happy about being able to go outside without so many layers of coats we can't put our arms down, there is something we ought to be on the lookout for: floods.
Floods are the most common natural hazard faced in the U.S., and Utah is no exception.  Whether it's the flooding of Ogden in 2015, or the Box Elder Creek overflow in Brigham City last March, floods happen all over.
Causes of Floods
The causes of floods are many and varied.  As a desert region, Utah does not have a lot of consistent rainfall, but sometimes, storms come in and dump a lot of water all at once.  While there are many systems in place to prevent disaster – sewers, drainage basins, dams, etc. – a particularly heavy storm can sometimes drop more water on us than we're prepared for.  This can cause flooding in houses, especially if they're at lower elevation.
Storms mixed with the melting snow in the spring can cause rivers to overflow.  If you live along a river or stream, you may not even need to have heavy rain in your area to experience flooding.  If anywhere upstream of you experiences a significant storm, floods are possible.
And on a smaller, more personal scale, a surprise leading cause of flooding in Utah is bad plumbing.  Now that the weather is warming up, leaks from frozen pipes bursting will become apparent.  Although this presents little risk to the community as a whole, it can be quite devastating to a home where it happens.
Flood Preparation

There are a few things you can do to prepare for floods. First, know how your local government announces flood warnings.  Radio and television will usually announce any warnings. During peak flooding periods, you should be listening for these warnings.
Secondly, take some precautions.  Waterproof your walls, especially your basement.  Have sandbags ready in case you need to lay some down.  Elevate any movable property.  In the case of an emergency evacuation, have a plan.  Have a list prepared of items you need to secure, or take with you.  If time permits, move all of your valuables to an upper floor.  Store insurance policies, important documents and other smaller valuables in a safe-deposit box.
Finally, know what to do when you return.  We've already written about what to do when your basement floods, so feel free to read our article on the subject.
We Can Help
In spite of all your precautions, sometimes there is simply nothing you can do to prevent a flood.  Rivers can overflow quite suddenly, giving you no time to put up the sandbags.  Storms can hit equally quick.  And even if warning announcements are made, there's no way to absolutely guarantee that you'll hear them.
Floods strike quickly and do a lot of damage. Here at Alpine, we know all about that. We have offices in several locations, from Salt Lake City to Idaho Falls, and are ready to help as soon as you need it.  Since floods do more damage the longer they sit, it's important to get on them right away. That's why we promise to arrive within 60 minutes of your call.  We'll get started as soon as possible in order to save as much of your home as we can.
If you experience flooding this spring – or any time – don't hesitate to get in touch.  We'll be there to help you get back on your feet.
https://www.alpinecleaning.com/wp-content/uploads/2019/01/boy-cars-child-1619719.jpg
1500
993
Bart Caley
https://www.alpinecleaning.com/wp-content/uploads/2022/03/Alpine-Core-300x165.png
Bart Caley
2019-01-29 11:06:08
2022-10-18 18:12:56
Flood Preparation in Utah and Idaho