Fireworks Safety in Cache Valley
Fireworks to Celebrate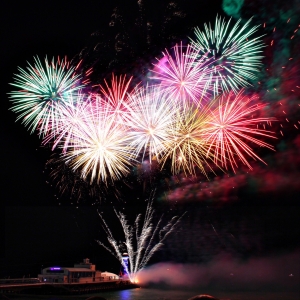 July is known for fireworks. As we celebrate Independence Day – and Pioneer Day for Utah – we light up explosives. We dazzle ourselves with the bright colors and deafen ourselves with loud noises. The noise drives our neighbors and their pets crazy. It's a good time all around.
It's also a fire danger. Even though the 4th has passed, fireworks are lit up all month long. It's not always legal, but there's always a few people ready to slide the law. We're not here to judge you for that, but just don't ignore your fireworks safety.
Fire Hazards
Fire is always a risk of setting off fireworks. Just this year alone, firefighters have already had to put out several blazes. In the past, wildfires from mishandled fireworks have caused significant damage to the Logan Canyon mountainside. It's no leap of logic to see how they could even set your house on fire, too. Be sure you follow these safety tips.
Safety Tips
Never allow young children to handle fireworks
Older children should use them only under close adult supervision
Clear a wide area around where you intend to use fireworks to minimize the risk of fire
Never use fireworks while impaired by drugs or alcohol
Anyone using fireworks or standing nearby should wear protective eyewear
Never hold lighted fireworks in your hands
Never light them indoors
Only use them away from people, houses and flammable material
Never point or throw fireworks at another person
Only light one device at a time and maintain a safe distance after lighting
Never ignite devices in a container
Do not try to re-light or handle malfunctioning fireworks
Soak both spent and unused fireworks in water for a few hours before discarding
Keep a bucket of water nearby to fully extinguish fireworks that don't go off or in case of fire
Never use illegal fireworks
Fireworks sold in brown paper are for professional use only; do not buy them if you don't have proper training.
Always be aware of the fire hazard warning for the day. Cache Valley posts the fire danger for every day, so be sure to check it.
Sparklers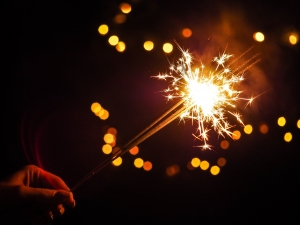 Sparklers are a favorite firework for many. When I was a kid, everybody wanted to play with them. They're fun, but they are dangerous. Sparklers burn at temperatures up to 2000 degrees, which is hot enough to melt some metals. Contact with the burning end of the sparkler will cause third degree burns almost instantly. That's nothing to sneeze at. Given the danger, it's probably best not to let children play with them (especially not younger children), but if you do, be sure you watch them closely and be ready to take them away at the first sign of things getting out of hand.
Keep Pets Away from Fireworks
It may be tempting to want your precious pup to join in the fun, but this is a bad idea. Animals are extremely afraid of loud noises and burning smells. Fireworks produce these in abundance. If you don't lock your pet inside during the celebration, more than likely it will run away. This could result in your pet getting lost or injured. That's not a risk you want to take.
If The Worst Happens
Even with proper precautions, fireworks are dangerous. Injuries are always possible and you should know what to do. If someone is burned by a firework, remove clothing from the burned area and call the doctor immediately.
The worst case scenario would be an eye injury. If there is an injury to the eye, be sure you prevent the injured person from touching or rubbing it. Do not attempt to flush it or put ointment on it. As above, call the doctor immediately. With quick enough medical attention, it may be possible to prevent permanent loss of eyesight.
For More Information
There are specific times of the year when it's legal to buy fireworks in the state of Utah. The Utah fire marshal has helpfully provided a flier for the dates. For the specifics of the state laws for fireworks in Utah, you can visit the Utah administration office website.
Staying safe is an important part of our July celebrations, so be sure you follow all our safety tips. If your home should be damaged from fire during these celebrations, don't hesitate to get in touch with us. We're a full-service restoration company with lots of training. We employ the most experienced professionals in the field of fire restoration. We'll get your home back in living condition in no time.
Otherwise, we hope you have a safe and fun July!
https://www.alpinecleaning.com/wp-content/uploads/2019/07/celebration-festival-fireworks-1387577.jpg
2718
2730
Bart Caley
https://www.alpinecleaning.com/wp-content/uploads/2022/03/Alpine-Core-300x165.png
Bart Caley
2019-07-09 13:59:44
2022-10-18 18:11:26
Fireworks Safety in Cache Valley