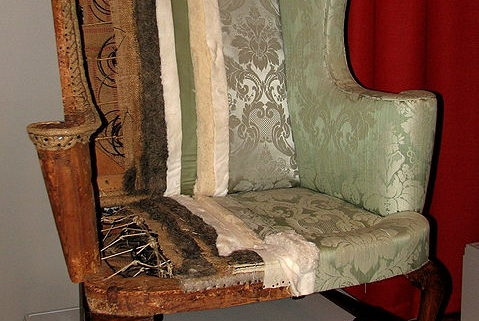 Upholstery Cleaning
Upholstery can be an expensive investment and you want to take care of it as best you can.  If you want your upholstery to last, regular cleaning, either by a professional, or with professional equipment is important.  How often you should have it professionally cleaned varies, but the recommendation is every 12-18 months.  Depending on how much you use it, and how many children or pets you have, you might need to clean more often.
Vacuum
The first step in the cleaning process is to vacuum.  You want to remove debris that might be disolved into the couch fibers themselves.  I would suggest you vacuum thoroughly for several minutes with the upholstery brush tool before going into any cleaning.  This will prepare the fibers and help you get ready for the more deep cleaning.
Spot Cleaning  Your Upholstery
The next step to cleaning your upholstery is to do some spot cleaning.  It's important to use a spot cleanser that doesn't change the original color of your couch.  Before spot cleaning, test the formula in an discreet area of your couch first.  Once it dries, check to see if there is any discoloration.   Once you've tested the solution, feel free to treat the other spots in the areas that need to be treated.
Cleaning Your Upholstery
You can now dive into the actual cleaning.  If you are on a tight budget, some simple clear dish soap in warm water will work great.  For microfiber-suede, a 50% alcohol-water spray works well to clean and dry quickly.  You will also need some clean white dish cloths or sponges.  Work up some suds, then gently scrub in a circular motion over the entire couch.
After you've cleaned your entire couch, you're done!  Just let it dry and then enjoy your cleaner, brighter furniture!  If you want a deeper clean, we offer top of the line equipment that not only cleans the fibers on the surface but also deep cleans your upholstery fibers for a fresh new living room!
We Can Help
If you'd like to have the assistance of a professional, we are always available.  Get in touch with us today to see how we can help.
https://www.alpinecleaning.com/wp-content/uploads/2015/02/Upholstery.jpg
599
479
Bart Caley
https://www.alpinecleaning.com/wp-content/uploads/2016/04/Alpine-Cleaning-Restoration-General-Contractors_349px.png
Bart Caley
2015-02-03 15:04:01
2018-12-06 11:04:14
Upholstery Cleaning